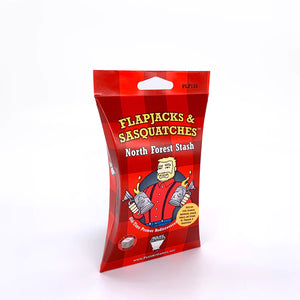 Prolific Games
Flapjacks & Sasquatches: North Forest Stash
Regular price
$15.00
$0.00
Unit price
per
The North Forest Stash makes a cache of hard-to-find and out-of-print cards available again, while supplies last.
A collection of promotional, expansion, and collector cards from days of yore.
Includes main deck (red back) variants of cards seen elsewhere with other backs. Use either version, or both!
Add cards to your game judiciously to preserve a flowery-delicate game balance, or dump them all in at once to unleash complete north woods pandemonium.
North Forest Stash is not a stand-alone game — you need a copy of Flapjacks & Sasquatches to play.
---