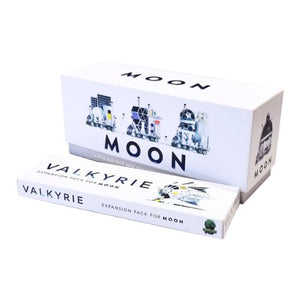 Sinister Fish Games
Moon Deluxe + Valkyrie Expansion
Regular price
$69.00
$0.00
Unit price
per
Moon is the third and final entry in Haakon Hoel Gaarder's loose trilogy which began with Villagers. It is a competitive game of lunar base-building for 1-5 players. The heaviest game of the three, it's still easy to learn, but has a great deal of strategic depth. Using the familiar "pick & pass" mechanism with a new twist, plus elements of engine building and worker placement, Moon is filled with crunchy decisions!
This Deluxe Edition contains all-wooden components, color printed moon rover tokens, and three storage boxes which double as token trays.
This bundle also includes the Valkyrie Expansion for Moon which adds the Valkyrie spacecraft, and with it a plethora of new super-technology from Earth. Be first to send a ship back to the home planet and you'll have your pick of the amazing structures on offer. Also includes optional foil structure cards new Expedition and Reputation cards for the base game!
---