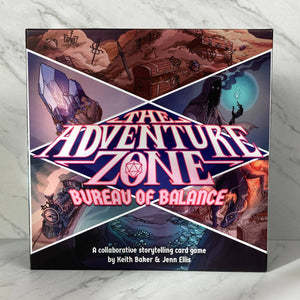 Twogether Studios
The Adventure Zone: Bureau of Balance Game
Regular price
$39.95
$0.00
Unit price
per
The Adventure Zone: Bureau of Balance is a light hearted family friendly cooperative storytelling card game based on the epicly popular McElroy family podcast and NYT best selling graphic novel series.
The game lets you and your friends build your own stories in the world of the adventure zone, pitting your party of adventurers against the challenges of a deadly dungeon. It's accessible and easy to learn, even with zero previous experience with fantasy roleplaying games or the adventure zone. 
No need for a DM! All you need is an hour or so, a few friends, and a little creativity.  With 12 decks of double-sided cards as a foundation, Taz: bureau of balance provides players with over 120 hours of unique challenges.
---