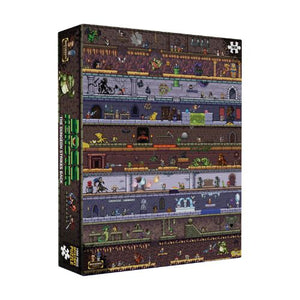 Brotherwise Games
Boss Monster Puzzle
Regular price
$22.00
$0.00
Unit price
per
Pesky adventurers are invading your underworld home! It's up to you to build a puzzly dungeon, find the Secret Pieces, and change the story so the Bosses are triumphant! For anyone who grew up playing 80s and 90s video games, this 1000-piece mystery puzzle is the perfect gift.
Pixel art gives the puzzle a unique look that's packed with retro details! A puzzle with a twist: the box cover isn't the final image. A tip booklet gives you clues to find the Secret Pieces that change the story!
Based on the best-selling card game, Boss Monster. When you're done, open your envelope to finish the story and claim your prize! Finished puzzle is 20 x 28 inches.
---