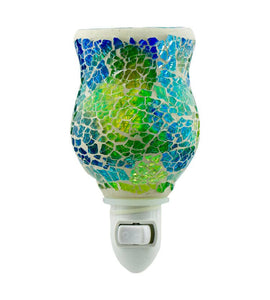 Belle Aroma®
Belle Aroma® Plugables® Fragrance Vase Wax Warmer Multi
Regular price
$16.00
$0.00
Unit price
per
Belle Aroma® Multi Color Mosaic Plugables® Fragrance Vase Wax Warmer
Set out on a sea of shattered blue and green, the impression of water, the foam, the white. Expressing itself in cubicles of color, in an essential shape, comforting to hold, pleasing to look upon.
For use with all No-Melt Tart®, Wax melts and 100% pure essential oils, just follow the directions for the fragrance method of choice and enjoy the delightful aroma.
The exotic mosaic glass gently glows azule while fragrance fills the air like a vase of flowers. Perfect to warm wax tarts, essential oils, or scented resin products like Belle Aroma's No-Melt Tarts'". There may be no lovelier way to decorate your home with fragrance.
---