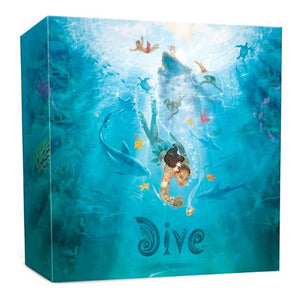 Sit Down!
Dive
Regular price
$45.00
$0.00
Unit price
per
Beyond the last continent on the remote island Windbark, diving is an ancestral tradition. During a rite of passage celebrated at the summer solstice, divers compete to retrieve the sacred stone of the village. The elder throws it from the top of the cliff, and the stone leads the contenders for the title of "hero" down to the depths of the ocean, aided in their quest by friendly sea turtles and manta rays.
However, to retrieve the stone, they will need to avoid upsetting the sharks that inhabit the ocean...
Dive plays simultaneously for all player divers, who start the game facing a shuffled stack of 36 transparent "ocean" cards. You have your own diver board and a set of five air tokens that are numbered 1-5 on both sides, with a shark on one side of each token.
Dive explores the notion of perception, the ability of the divers to observe the ocean through a deck of transparent cards and to benefit from their observations.
---