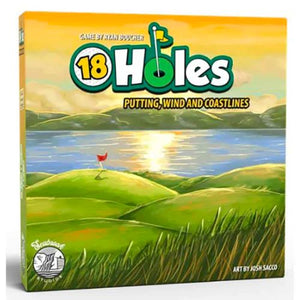 Seabrook Party Ltd.
18 Holes: Putting Wind & Coastlines
Regular price
$40.00
$0.00
Unit price
per
In Reading the Greens, players now need to consider their approach to the green to ensure they have the easiest putt. A Green deck is added to keep the challenge fresh for every hole. Includes new golfers, new clubs, player actions and once on the green, custom dice are used to sink the putt.
In Taming the Wind players can choose how they will work with the wind, allowing for shots that were not possible before. The Coastline pack includes new double-sided course tiles that bring the beautiful coastlines, precarious greens and new hazards.
This expansion is compatible with both the first and second edition of 18 Holes.
---