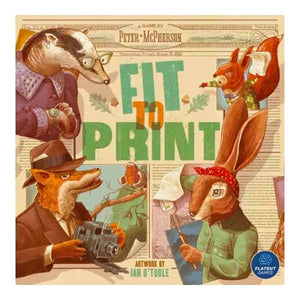 Flatout Games
Fit to Print
Regular price
$44.00
$0.00
Unit price
per
Fit To Print is a tile-laying game for the whole family. Players simultaneously collect newspaper tiles, stacking them on their desks until they think they have what they need to make the perfect front page. Then, they will yell "Layout!" and begin to lay out the page by carefully considering the placement of centerpieces, articles, photographs, and advertisements. When everything is just right, they yell "Print" to be the first off the press and gain their choice of centerpiece for the next round!
This hectic spatial puzzle features over 100 unique newspaper tiles, 6 characters with their own special abilities, as well as 3 decks of Breaking News cards —so that each and every time you play you will be solving a new puzzle!

If real-time games aren't your style, Fit to Print has several alternative modes to satisfy every type of puzzle gamer. Whether you enjoy relaxing solo puzzles on your own, or frenetic action for up to 6 players, you will have a blast helping the critters of Thistleville tell their stories!
---