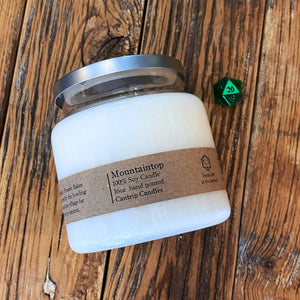 Cantrip Candles
Mountaintop 16oz Candle
Regular price
$38.00
$0.00
Unit price
per
Fresh, Layered, Bright
Notes: Frosted Spruce, Copal Resin, Coal
The air is crisp and cold at this altitude. Frozen flakes of snow brush past your cheeks, carried by the howling wind. Plumes of chimney smoke mark the village far below as storm clouds gather atop the icy summit.
This 16oz candle has nearly 3 times more wax than our standard size and is double wicked for a clean, even burn. Our "Dice" variants include our signature metallic d20 die INSIDE THE CANDLE that feels magnificent to roll. The candle's burn time is approximately 60 hours and is capable of filling a large area. They cast a romantic glow on the table as the flame flickers through beautiful glass.
Made with 100% Soy Wax and poured in small batches.
---