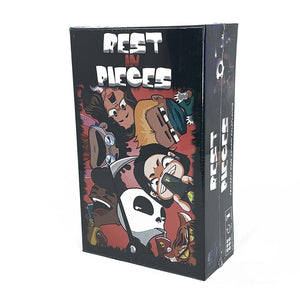 Imagining Games
Rest in Pieces
Regular price
$42.00
$0.00
Unit price
per
Fill the shoes of a fed-up deadbeat roommate that happens to share a cramped studio apartment with none other than the Grim Reaper!
What can go wrong, does go wrong in this ridiculous game about bad days and difficult roommates.


Rest in Pieces is a dark comedy tabletop roleplaying game inspired by the misadventures, cartoon logic, and over-the-top characters of slacker sitcoms like The Grim Adventures of Billy & Mandy, The Regular Show, Rick & Morty, and It's Always Sunny in Philadelphia.
Plays with a Two-Color Jenga-ish Block Tower and a unique deck of 108 cards that teach the rules, describe characters, and create overarching problems. With 14 unique problem scenarios to rile up your roommates, you'll be ready to play in minutes! 
 
Visit ImaginingGames.com for a free PDF of the rulebook, actual play footage, and more!
---