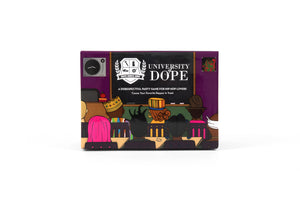 University of Dope
University of Dope
Regular price
$26.00
$0.00
Unit price
per
"A Disrespectful Party Game For Hip Hop Lovers"
AND IF YOU DON'T KNOW………
All the rhymes, rivalries, and reps are up for debate in this hip-hop game where there are no wrong answers. Make no mistake, dropping knowledge will most definitely help you rise to the top, but this boozy card-based competition relies on making difficult decisions and expressing unpopular opinions to spark friendly, heated discussions.
You and up to five opposing players must answer questions like "Which artist would you remove from hip hop history?" and "What's the best hip-hop soundtrack?" or show off on-the-spot abilities like rapping the lyrics to "Nuthin' but a 'G' Thang" or doing a 15-second impression of DJ Khaled. Majority rules will determine the loser of each round, so align with the crew's vibe, or find yourself lost in gin and juice. Can't keep up? You best refill that cup because school is officially in session.
---