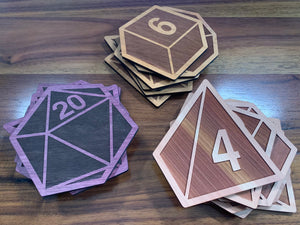 Opal Grove Games
Wooden Dice Coaster Set
Regular price
$15.00
$0.00
Unit price
per
A set of wood burned coasters themed off of the dice used for many popular role playing games. Each set includes six different coasters: d4, d6, d8, d10, d12 and d20 made out of solid wood and sealed with polyurethane to protect them from water.

We also offer a plywood variant which isn't sealed so that it can be more easily painted or decorated.

Reach out to us if you would like a custom variant or a wood we don't typically stock.
We produce these in house, so we may require a few days to make them before they're ready to ship out.
---